Standout Hard Ons - A Shortlist of The Best Hard Hats
STANDOUT HARD-ONS


A SHORTLIST OF THE BEST HARD HATS IN THE MARKET
Need a starting point for your hard hat shopping? Here are a few of the most popular brands and their bestselling item!
Ergodyne
First started by a doctor who created an aid for back support for fellow medical workers, Ergodyne has come a long way in expanding its range of safety gear to include gloves, high-visibility accessories, and head protection.

Apart from having a height adjustable 6-point suspension, which provides a more comfortable fit and better dispersion of force, the Skullerz 8966 Hard Hat also boasts breathable venting and a swivelling suspension that's great for those who wear your hair in a ponytail or bandana! Get it here on MerchFoundry!
MSA
Established in 1914, MSA Safety Incorporated is the global leader in the development and supply of safety products. Many MSA products combine mechanical systems and advanced materials to protect users against life-threatening situations or hazards.
The MSA V-Gard Helmet, with its distinctive trademark "V" design, is known for comfort, quality, and durability. Over 100 million V-Gard Helmets have been sold since its introduction and found in worksites globally.
3M
You may know them as the maker of office stationery and adhesives but did you know 3M also makes Personal Protective Equipment (PPE)? Aside from apparel and respiratory masks, 3M has a range of hard hats available in different styles and colours.

3M™ Hard Hat, (G3000NUV-GU) provides ventilation holes, a plastic sweatband to provide comfort and a ratchet suspension. However, its most unique feature is a 3M™ Uvicator™ sensor disc that tells you when it's been over-exposed to UV radiation and is in need of a replacement.
Bullard
Bullard was first started in 1898 in San Francisco by Edward Dickinson Bullard, a supplier of mining equipment and the brand rose to fame in 1919 after his son, E.W Bullard returned home from the war and invented the world's first hard hat.
Since then, Bullard has gone to expand its range of safety equipment and as an ode to a century of the hard hat, created the Cen10™ Helmet. Made with style, comfort and safety in mind, the helmet that's made from a blend of chemical-resistant plastic boasts innovative 3-layers protection with inner foam and padding.
RS Pro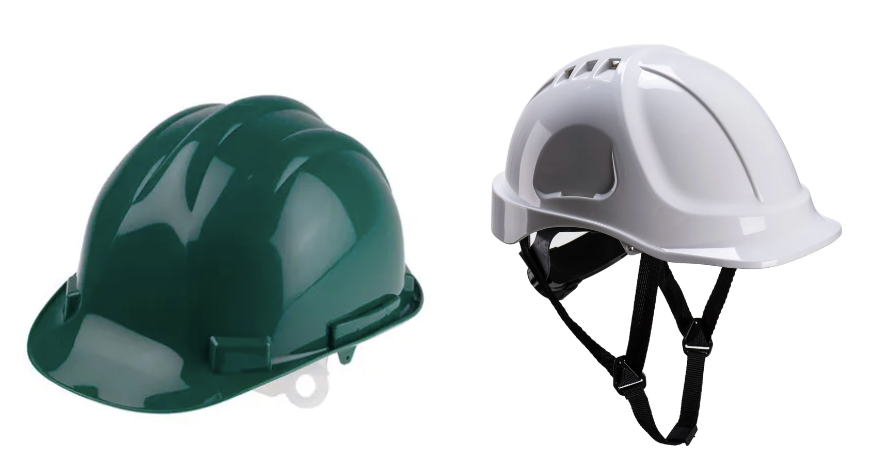 RS Pro is the in-house range of PPE by RS, a leading provider of engineering products and solutions around the world. Its signature range of safety helmets comes in a myriad of colours, styles and at affordable prices.
Centurion
Hailing from Britain, Centurion has been a household name for protective headgear since 1879 fitting even members of the royal family. The brand offers helmets for both the day-to-day grind and specialised tasks. The Concept hard hat stands out because of its unique design, providing an extended nape which increases protection around the user's neck and it also claims to be 20% lighter than most helmets.
Check out Merch Foundry's range of Hard Hats and other safety workwear here!
Share this:
Twitter
Facebook